In this edition of Plantfluencers Stories we talk to Alba, a professional in the world of botany, with a real "green hand" and a great communicator.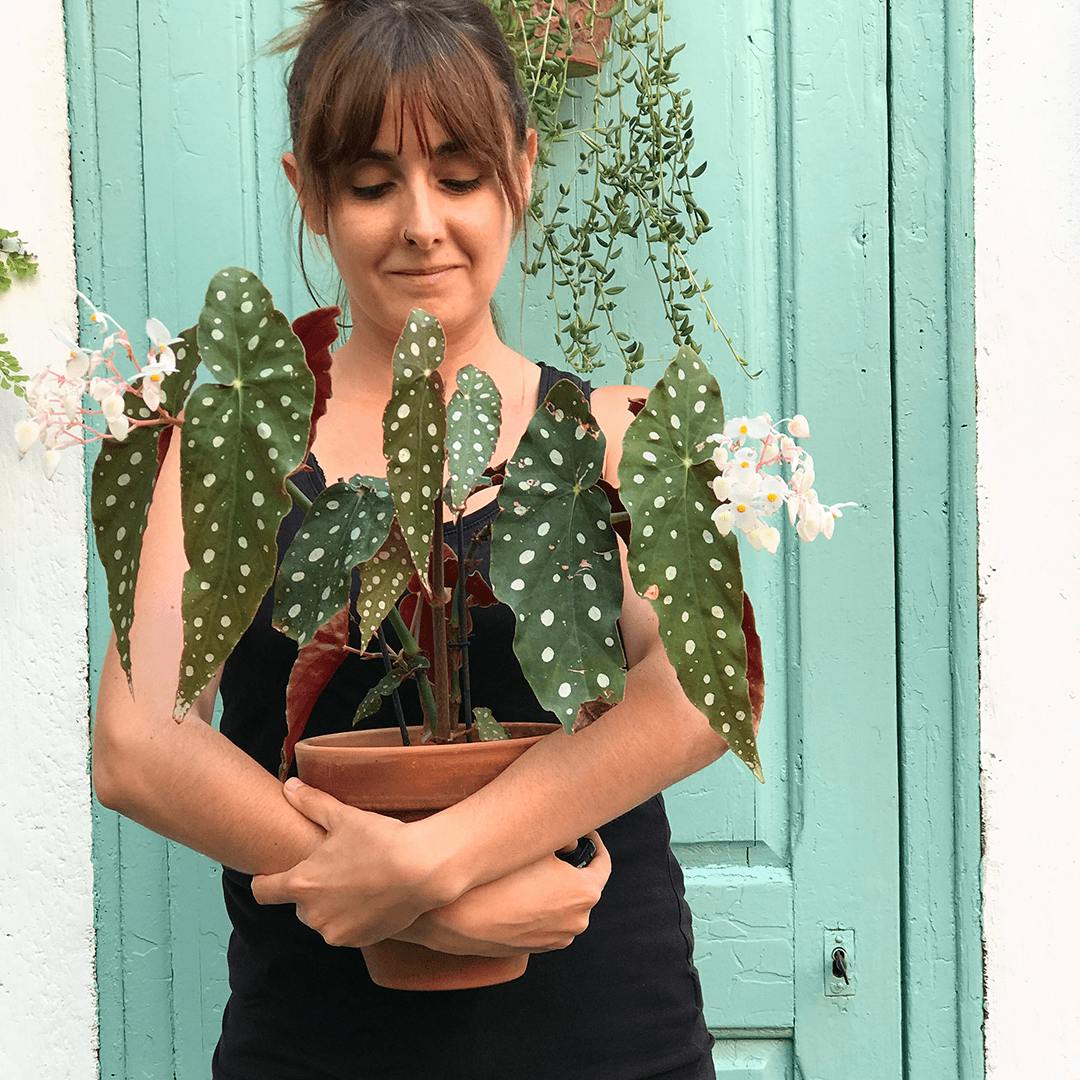 Tell us a little bit about yourself...
My name is Alba Núñez, I'm from Zamora and I studied Biology in Salamanca. I have always felt very connected to nature, although I haven't always had plants at home. After finishing my studies I was professionally separated from the world of plants for a while. But there came a moment when I decided to turn my passion into my profession. And that's how Verdopolis started.
What I like most about having plants at home when you live in the middle of a big city is that you can keep in touch with nature on a daily basis.
can you tell us a bit about your Instagram account? how did you get into the world of plants?
I opened my Instagram account when Verdopolis was born, I don't have a personal account. I've always liked photography and my project led me to take lots of photos of the plants I have at home and the ones I found on my trips to the countryside. I started to post them on Instagram accompanied by explanatory texts and I was surprised by the great reception I got from the Instagram community. So I put a lot of effort into this social network.
I also use this network as a way to disseminate content in a more casual way than on the blog. Deciding to show botanical content on Instagram has also helped me to meet people with the same motivations as me, and with whom I share many interests. Today it is one of my most powerful work tools.
As a curious fact, I'll tell you that when I started my project I focused it on the urban garden. But thanks to Instagram I saw that people were also asking me for other types of plants that require less dedication than edible plants. And that's how I started to include indoor plants, which are currently arousing so much interest among plant lovers.
I am now focusing on creating content for the Blog as it allows me to be more extensive (both in text and in photo and video) and therefore more precise.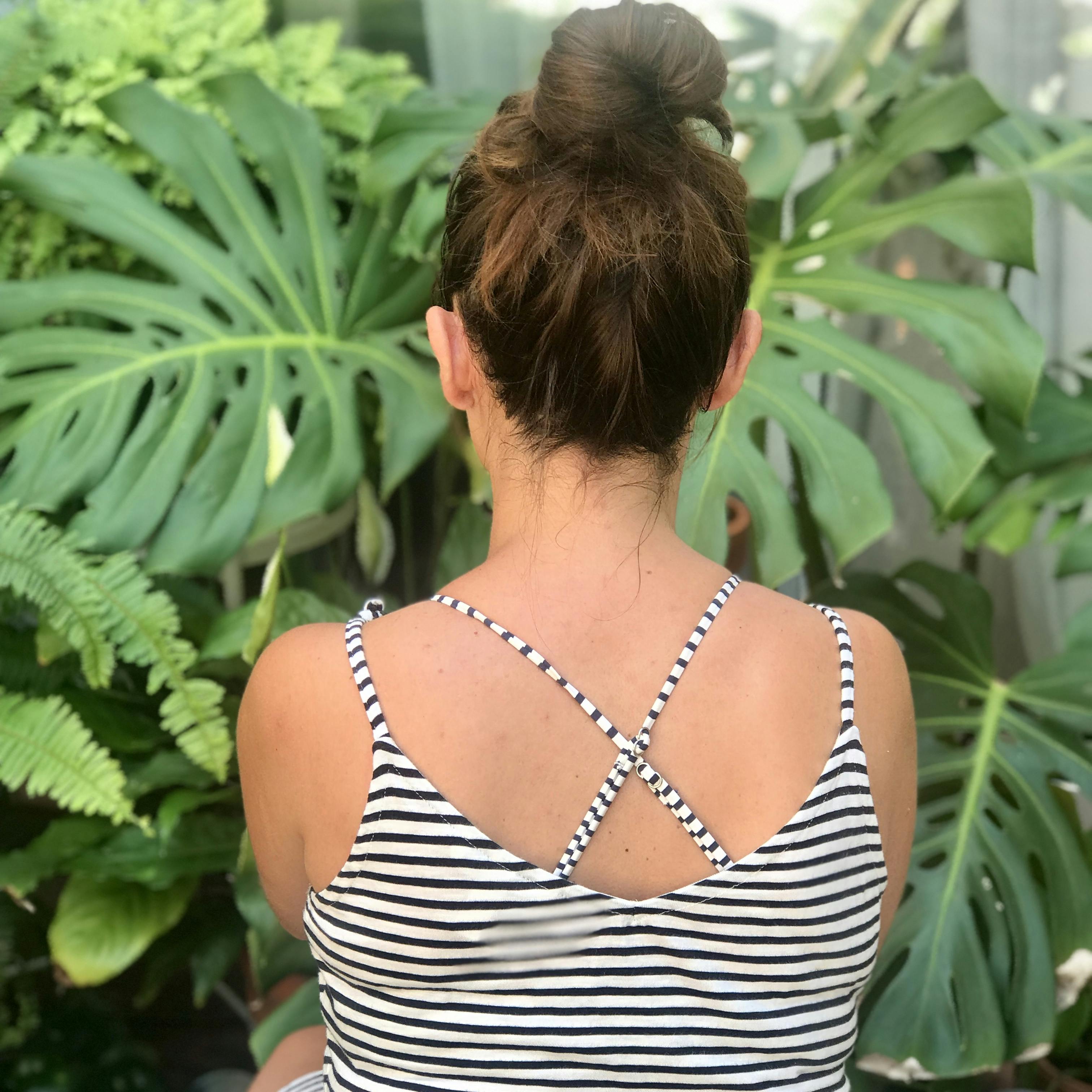 how did I get into the world of plants? Uff, I have always felt a very strong connection with Nature. When I was little, we used to go out to the countryside a lot with my parents. Besides, part of my family lives in the countryside and I have beautiful memories associated with the natural environment. The funny thing is that in my family home there were never many plants, so I can't say that my love for plants at home is inherited. But I have to say that, for some time now, every time I go back home, my parents have got themselves a new plant.
When I came to live in Barcelona, a city much bigger than the places I was used to, this need to feel Nature close to me was accentuated. So I decided to live in a flat where I could have a lot of plants.
why? Because I like them, they give me peace and make me feel good. When plants started to enter my home, it became a botanical laboratory where I studied how they lived and evolved in my small city space. I started sharing on Instagram what was happening and I still do today because people's interest in the world of plants is growing.
So I got into the world of plants at home and the dissemination of plants in a very natural way. I turned one of my passions into my profession and I am very happy that I decided to start my own business.
We ship plants to all locations, you can see more options here.
how can you get a nice leafy Pilea?
Pilea peperomioides is a plant that I find very easy to look after, although I know that some people find it very difficult. To get a lush Pilea the trick is to place it in a bright spot without direct sunlight. But where the Pilea tends to go wrong is with watering, as I have found that most people water it much more than it needs. And an over-watered Pilea peperomioides does not grow, it yellows and its leaves fall off.
Associating more water with more love is a mistake, especially in the case of plants that are sensitive to overwatering, such as Pilea peperomioides.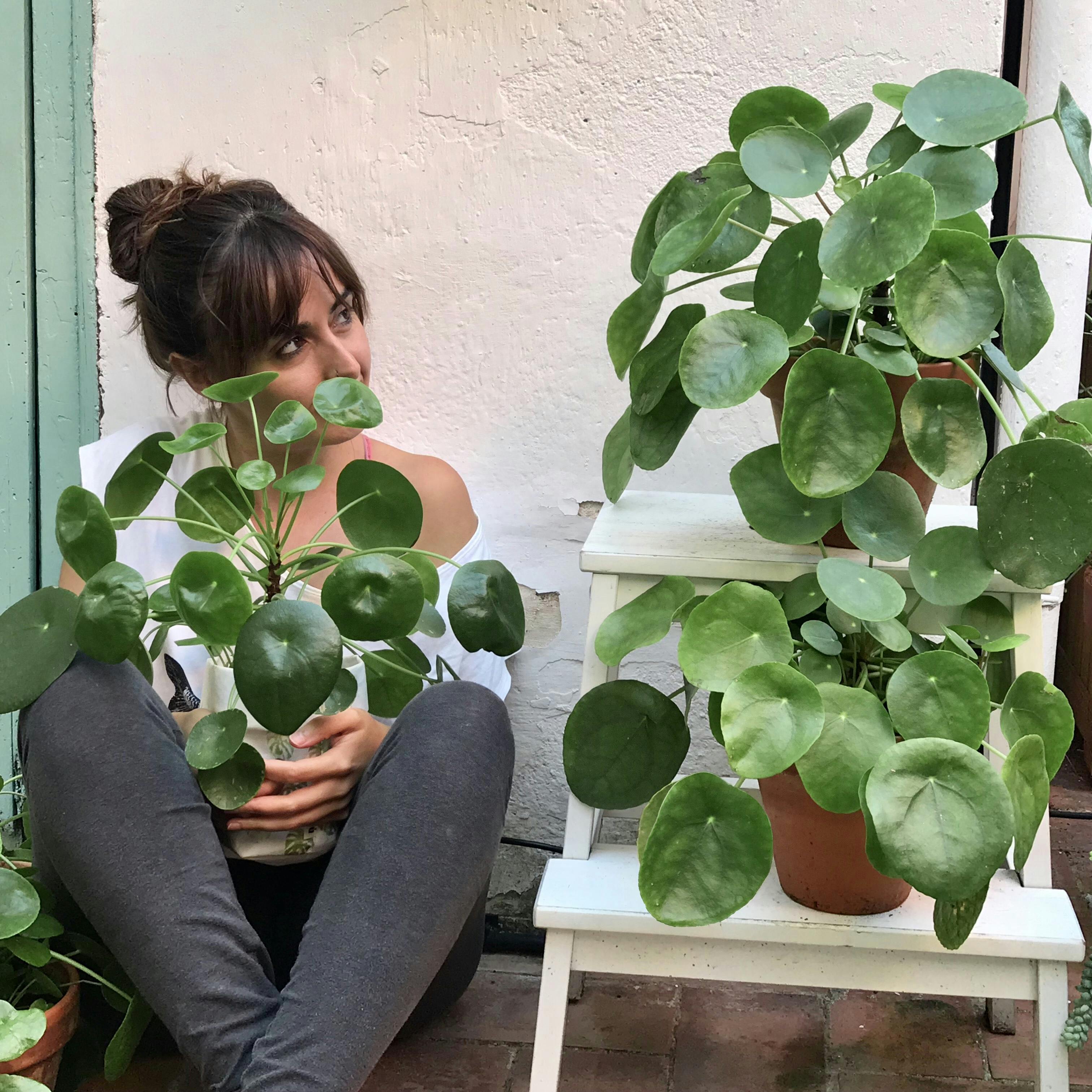 My first Pilea came into my house a little over two years ago and I placed it on the veranda, which is the area of my house with the most indirect light. I decided to water it very little because I had read that the roots of this plant suffer a lot from too much water. So, at first, I only watered it when I saw that the leaves were starting to look faint. Little by little I started to get the hang of it and now I know how to interpret when it is asking to be watered without letting it go thirsty.
We ship plants to all locations, you can see more options here.
During the spring and summer I fertilise it with worm castings or green manure. I clean its leaves so that it breathes well and place it next to other plants to generate the humidity that they like so much (especially when they are subjected to heating and air conditioning)
OK, you have to choose one plant in the world, which one do you choose?
I consider my favourite plant, but not the only one I would choose in the whole world, the Adiantum Capillus-Veneris, the Culantrillo Fern. It seems to me to be delicacy made plant... When you look at it you can't stop looking at it and to the touch it is super soft and relaxing. It is absolutely beautiful. But it is not an easy plant to take care of and it requires dedication and a bit of experience. One of the things I like most about this fern is that you can find it in the countryside. And having a plant at home that is part of our natural surroundings is exciting because it is much easier to mimic the conditions in which it grows naturally.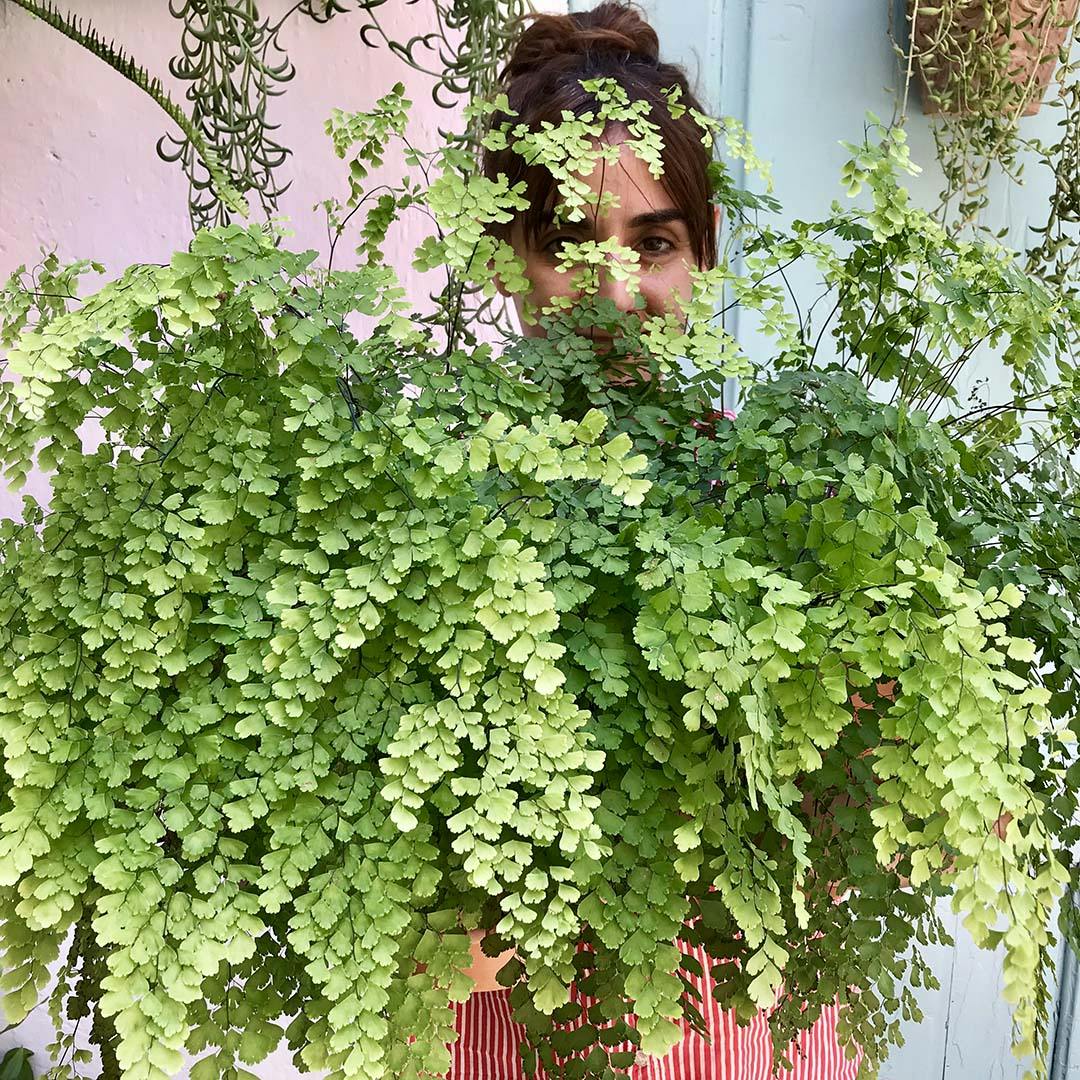 The trick with the Culantrillo fern is to keep the soil moist. Its fronds are very delicate and if the soil dries out you can run out of fern in a matter of hours. However, it also has the super power to rise from its sciences like a phoenix. It is a plant with a great spirit of self-improvement.
how do you deal with pests?
Actually, with patience. The most important thing to keep pests at bay is to keep a close eye on the plants we have at home.
Take a good look at the leaves from the top and the underside to check for strange marks and unwanted inhabitants.
If you catch a pest in time, it is usually easy to eliminate, but if it is very advanced, sometimes even the most aggressive products do not work. And our plants suffer a lot with these treatments.
We ship plants to all locations, you can see more options here.
what is your weekly plant care routine?
I have so many plants that it's difficult to give you a strict routine, but I usually try to water them all at the same time and the day I water them I water them thoroughly.
The plants I have indoors I usually water them under the shower. I do a first watering to soak the soil well and then repeat the watering to make sure the roots are well hydrated. On the day of watering I also take the opportunity to moisten the leaves (except for the plants that don't like to be watered)
The plants on the terrace have been automatically watered since last summer. Even so, I like to dedicate a day at the weekend to clean the leaves with the hose. They are very grateful for it, and so am I. When the weather is nice, it's a pleasure to be out on the terrace tending to them.
is it true or myth that you should only water when the sun goes down?
True, even when the plants are not in direct sunlight. If we water during the hottest hours of the day, the water that remains on the surface will evaporate more easily and we will be wasting it. I usually water the plants on the terrace in the evening or late afternoon. Besides, the atmosphere of freshly watered plants on summer evenings is priceless.
We ship plants to all locations, you can see more options here.
what brought you to your workshops?
I have always liked to explain to others what I am passionate about and when I got professionally involved in the world of plants I decided that I wanted to tell people how to make them happy.
At first it was a bit difficult for me to speak in front of many people but I soon realised that I loved it and that I was in my element. Now I really enjoy myself during the workshops, I have a great time and I love to see that the participants enjoy themselves as much as I do.
My main goal is to connect people with Nature through the botanical workshops in order to contribute to creating greener cities. It is true that this depends, to a large extent, on the administrations. But if we make citizens aware of the importance of being in contact with nature and help them to understand plants, we will make cities greener and improve our quality of life
what do your workshops consist of?
My workshops are focused on teaching basic plant care, but more from a botanical point of view than a gardening one. I teach people how to take care of their plants by helping them to understand them. I also try very hard to make the workshop a moment of connection with nature so that people can disconnect from everyday life.
In the workshops people discover that certain plant care, such as cleaning their leaves or pruning them, can be very relaxing. Also, as I have already mentioned, I like to experiment a lot and I do a lot of experiments related to plant propagation. So those attending my workshops can put these experiments into practice and learn different ways of multiplying the plants they have at home.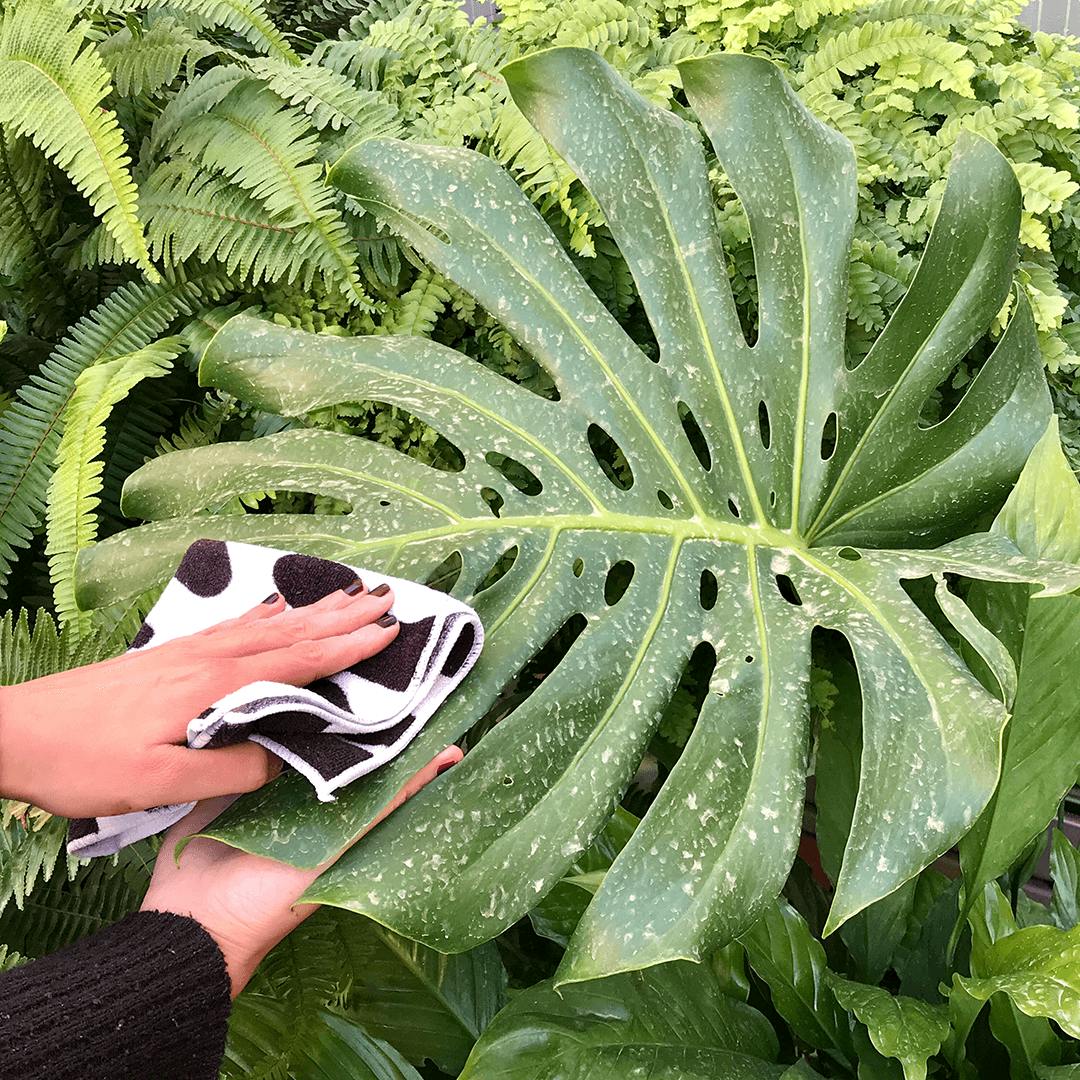 The workshops I launched for this season are focused on one plant. They are monographic workshops in which I teach basic plant care based on a specific species. In the last one we practised with Monstera deliciosa and the next one will focus on a precise Begonia. Looking ahead to spring, I have several workshops prepared for the season that is about to arrive, but for the moment I am not going to reveal the themes?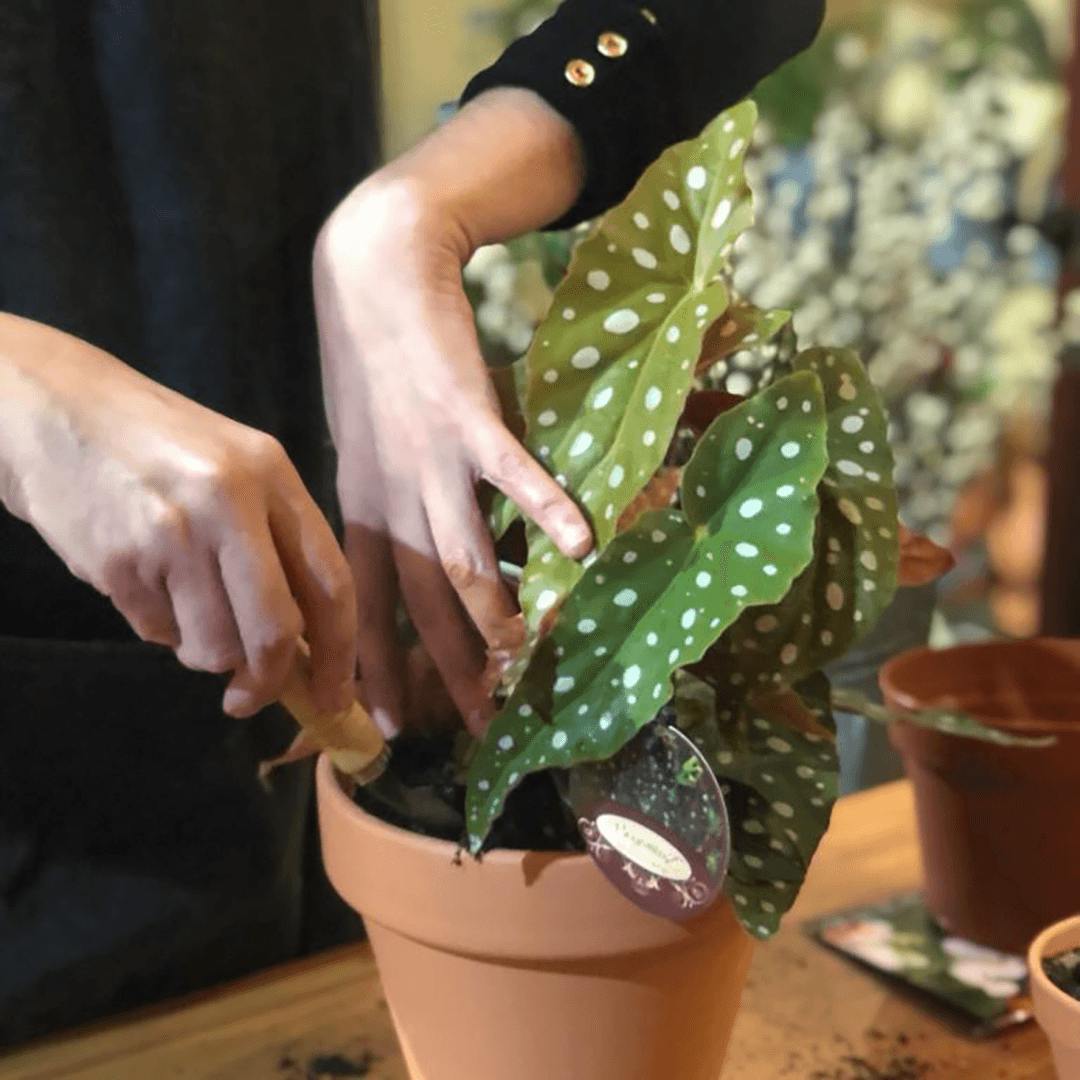 where do you give your workshops?
Mainly in Barcelona. Although I have occasionally done workshops in Zamora and I would like to continue doing them. In my future plans is also Madrid, but time will tell...
Follow Alba on her journey through nature and plants on her Instagram or get one of her plantil artworks on her website
About the author
Marina Delgado
I make sure that all plant lovers are informed. I don't know exactly what it is, but there is a magical peace that surrounds the world of plants that I love!